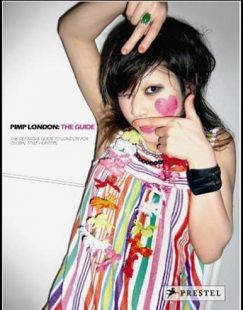 Price: £11.99
R.R.P. £12.99
160 pages

Over 150 colour photographs

Paperback

17cm x 22cm

ISBN-13: 978-7913-3884-2
Product Details
PIMP offers unrivalled access to one of the world's most exciting cities with its in-depth guide to London – the first ever produced for the young and style-conscious.
PIMP London: The Guide takes global style hunters to the core of London's most influential music, art and fashion scenes, with over 200 reviews on the best stores, bars & clubs and art spaces, plus insider knowledge by London's top street artists, musicians and fashionistas, who introduce their favourite local haunts.
Presenting an 'off-the-map' London, this exciting new guidebook reveals after-hours drinking spots, hidden art spaces and fashion-hunting grounds, along with street art showcases, club-kid photography, and recommendations by Mercury Prize winning band Klaxons, socialite Jodie Harsh, world-famous graffiti artist D*Face and many more.