StolenSpace presents Lovestain, the premier UK solo show from world-renowned French street artist Miss Van.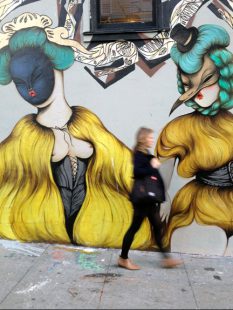 The largest solo show to date anywhere in the world for the groundbreaking female graff writer, the exhibition will take place across both gallery spaces of the east London location. Lovestain will incorporate both a retrospective of the Toulouse-born artist's work, as well as a new collection of paintings and drawings conceived in her current home of Barcelona.
Best known for her trademark sultry female characters, otherwise known as 'Poupes', Miss Van has been bombing the streets since the early '90s at the age of eighteen. With the subtle nuances and ambiguities in her street work even more evident in her gallery pieces – the result of using more fragile media such as pencil and fine pen detail – the retrospective should afford the opportunity to chart Miss Van's artistic development over the past two decades.
Whether angelic self-portraiture or a devilish representation of the female form, Miss Van's landmark London show is guaranteed to thrill those who've long awaited her first major solo show here on British soil.
Her overtly feminine portraits have always stood out among the masculine-dominated arena of urban art, but most impressively they continue to possess the same disarming quality within their gallery settings.
The exhibition will also see the release of an exclusive, limited edition hand-pulled screen print from Miss Van.
Lovestain runs from Friday, October 2 to Sunday, October 18 (Private View – Thursday, October 1) at StolenSpace.